Clinton Devon Estates has selected a thriving organic meat farming business as the new tenants for Dalditch Farm, which stretches across 237 acres of stunning countryside between the Jurassic Coast at Budleigh Salterton and the Pebblebed Heaths National Nature Reserve.
Dalditch Farm was for many years a successful dairy farm managed by the Estate's own farming business. Following a review, Clinton Devon Estates decided to offer the farm to a tenant farmer wishing to grow their business and was keen to consider a wide range of applications, including from the County Council Farms sector. The Estate wished to support the tenanted sector at a time of unprecedented change in agriculture and sought tenants who shared in its commitment to regenerative farming and the principles of land stewardship.
After an unprecedented amount of interest in the opportunity and some excellent potential candidates, the Estate has selected Ollie White, a fourth-generation farmer who has been running Farm2Fork from Somerset County Council owned Greenway Farm near Ilminster for the past 9 years.
A Nuffield Farming Scholar, Ollie has travelled widely across Australia and the USA to gain an insight into grass-fed methods of farming and the health and environmental benefits of consuming grass-fed meats. His organic farm is home to 100% grass-fed cattle, sheep, and pasture-raised poultry, farming to encourage biodiversity both on the ground and above it.
Ollie explained: "When we saw Dalditch Farm advertised, it was like the stars had aligned. The timings fell perfectly with us trying to move the business before the clock ran out on our current tenancy. These opportunities are rare and even harder to find one in the locality.
"When we launched Farm2Fork, our business plan was to farm regeneratively, in a way that benefited both animals and their natural environment, and that is what we've achieved. Clinton Devon Estates showed a clear interest in supporting a business like ours, and to find a landlord with a shared vision for the future of farming elevated the opportunity.
"Everything we wanted was on offer and the timing was perfect. It enables us to protect and grow our business."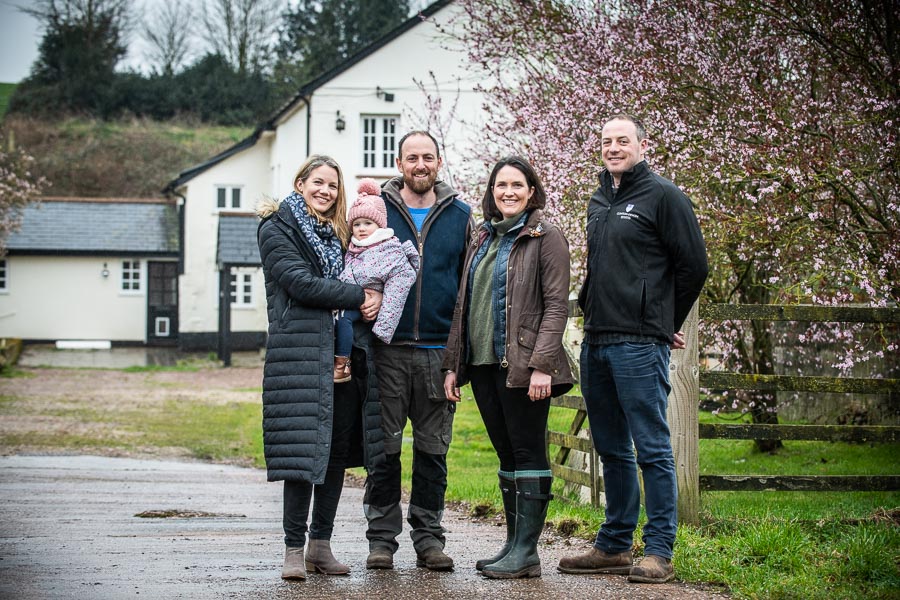 Clare James, Head of Residential, Land and Tourism at Clinton Devon Estates (2nd from right) and her colleague Sam Briant-Evans, Head of Agriculture (far right) welcome new tenant farmer Ollie White to Dalditch Farm with his partner Charlotte + their daughter Poppy.
Clare James, Head of Residential, Land and Tourism at Clinton Devon Estates said: "We are delighted to be welcoming Ollie and his family to Dalditch Farm. His approach to farming demonstrates our 2030 Strategy goal for land to be ecologically healthy and productive.
"Ollie has shown through his business in Somerset that regenerative farming can produce nutrient-rich food whilst achieving high conservation standards, benefiting wildlife, landscape and the local community and we look forward to seeing his approach in practice at Dalditch Farm."
Ahead of the move to Dalditch Farm with partner Charlotte and 20-month-old daughter Poppy, Ollie plans to remodel the dairy to host freezers and a packing room, as well as putting other facilities in place to accommodate the business operations. In time, he also hopes to build a shop on site.
"With 90% of our orders online and for nationwide delivery, it makes it easier for us to relocate. We're looking forward to serving a new market in East Devon, as well as continuing to serve our loyal customers too," Ollie added.