The Beer Men's Shed project started out a few months ago in a member's garage with some borrowed tools – but thanks to an amazing community fundraising effort it now has a permanent home in the village and is already making a big impact on people's lives.
Earlier this year, members launched an appeal via Crowdfunding Devon and in just eight weeks raised £13,000 – enough to help secure a permanent base in the shape of a 22 square metre workshop which doubles as a club house.
The official opening of the Beer Men's Shed in the grounds of the Mariner's Hall, on Saturday, October 26, was attended by a number of dignitaries, benefactors, residents and prospective members.
Members have already completed a number of commissions including a largescale village noticeboard and 50 dormouse nesting boxes for the district council, and a large wooden children's activity box.
Local landowner Clinton Devon Estates, who funded the clearing of the site for the workshop, has invited the group to collaborate with their Plan for Pollinators project. This will involve making large flower boxes to attract insects, birds and bats, in support of Bat Friendly Beer, a partnership project to boost Beer's bat population.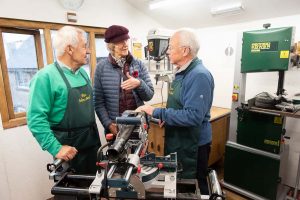 Chris Pickles, group chair, said: "Our main priority is attracting more men to our group and inspire them to lead happier, healthier lives, which is our main consideration when deciding what project to take on.
"We put the call out on social media and the money just came in overnight; it really is a measure of the goodwill in the community."
"One of our members enjoys it so much he takes a 45-minute bus ride to the club twice a week," continued Chris. "He used to spend the majority of time at home and was in and out of hospital. He's led on some of our projects, and enjoys the laughs and jokes we share; we've seen how the group has cheered him up.
"The group brings people together," Chris added. "Some people like to get stuck into the work, while others like the social aspect more. We keep an eye out for each other and we enjoy each other's company."
The group has also received support from East Devon District Council, Action East Devon, Devon County Council's Community Chest, Devon and Cornwall Police's Community Resilience Fund, Defra's Sustainable Development Fund and the East Devon Area of Outstanding Natural Beauty.
Funding has also enabled the purchase of more tools, such as a lathe for woodturning, allowing members to take on more ambitious projects.
Sessions with Beer Men's Shed take place on Tuesday and Thursday afternoons. For more information visit www.beermensshed.uk or email [email protected].