Lord Clinton has unveiled a plaque to mark 100 years since the formation of the Forestry Commission, in the same North Devon woodland his great great grandfather planted the first Forestry Commission tree in 1919.
200 guests including Sir Harry Studholme, the Chairman of the Forestry Commission, and Sir William Worsley, the Government's Tree Champion, joined Lord and Lady Clinton of Clinton Devon Estates at Flashdown Wood in Eggesford Forest near Crediton for the ceremony and the planting of three new trees to complete an avenue of 100 trees, known as the National Centenary Avenue.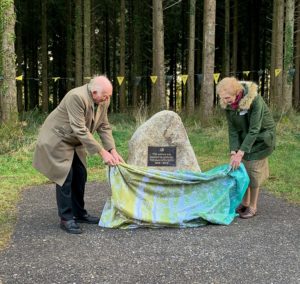 In 1919, Charles Trefusis, the 21st Baron Clinton was appointed one of the founding members of the Forestry Commission, formed as part of the Forestry Act to replant Britain's woodlands which had been depleted during the First World War. Immediately after the first meeting in London, Lord Clinton and fellow member Lord Lovat from Scotland challenged one another to a race home to plant the Commission's first trees.
Records show that Lord Clinton had assembled a small team of foresters, ready to plant trees as soon as he disembarked his train at Eggesford Station. Meanwhile as Lord Lovat arrived at Elgin Station he was handed a telegram from Lord Clinton announcing that the first trees had already been planted in Flashdown Wood in Devon. Today, some of the same Douglas firs, larch and beech trees stand at around 40 meters tall.
The 21st Baron Clinton went on to become the second Chairman of the Forestry Commission, leading a programme of work to replenish Britain's timber resource. Over the years, the focus of the Forestry Commission has shifted much more multi-purpose woodland for habitat protection and recreational space.
The centenary planting at the Forestry Commission's Eggesford Forest is the third tree planting ceremony conducted by the current Lord Clinton; the first being in 1969 for the 50th anniversary and the second in 1994 to mark the 75th anniversary.
Clinton Devon Estates owns and manages around 1900 hectares of woodland in Devon.  John Wilding MBE, Head of Forestry and Energy is also Chairman of the Forestry Commission's South West England Forest and Woodland Advisory Committee.
Commenting on the Estate's long-standing links with the Forestry Commission, John Wilding explained: "In the last 100 years the Forestry Commission has been largely responsible for doubling woodland in the UK. Here at Clinton Devon Estates, the legacy of our tree planting and forestry management has resulted in multi-purpose woodland of 25% native broadleaves within a mosaic of commercial conifers, much of which occupies steep slopes an ancient woodland sites."
John Wilding added: "Our long-term vision is to hand-on a more diverse forest of in terms of species and irregular structure which will help to protect soil and store carbon dioxide as well as helping to meet the challenges from new pests and disease."