Beer has been recognised as being a 'Bat Friendly Community' through its initiative 'Bat Friendly Beer' and representatives of the partnership received the award at Beer Regatta on the 15th August 2019.
The Bat Friendly Community Award was set up by the Devon Greater Horseshoe Bat Project to recognise those communities who are working hard to promote and protect their bats.
Bat Friendly Beer are a group of businesses, village organisations and educators who came together to deliver benefits for bats, other wildlife, and people in Beer.
The group aims to promote the village of Beer as a 'bat friendly' place to live and work, by working with the school and organising/attending events in and around Beer. Last year a competition resulted in a striking new logo, which you may have spotted displayed in and around the village.
Amongst other activity the initiative has seen a new hedge planted, wildflower seeds distributed to residents, and scattered to create wildflower plots around town and a bat day was held at the primary school.
Residents and visitors alike have also been able to find out more about bats through the Devon Greater Horseshoe Bat Project Bat Beacon which has regularly been in the Bomb Shelter in Beer. This interactive display allows people to discover more about these fascinating mammals.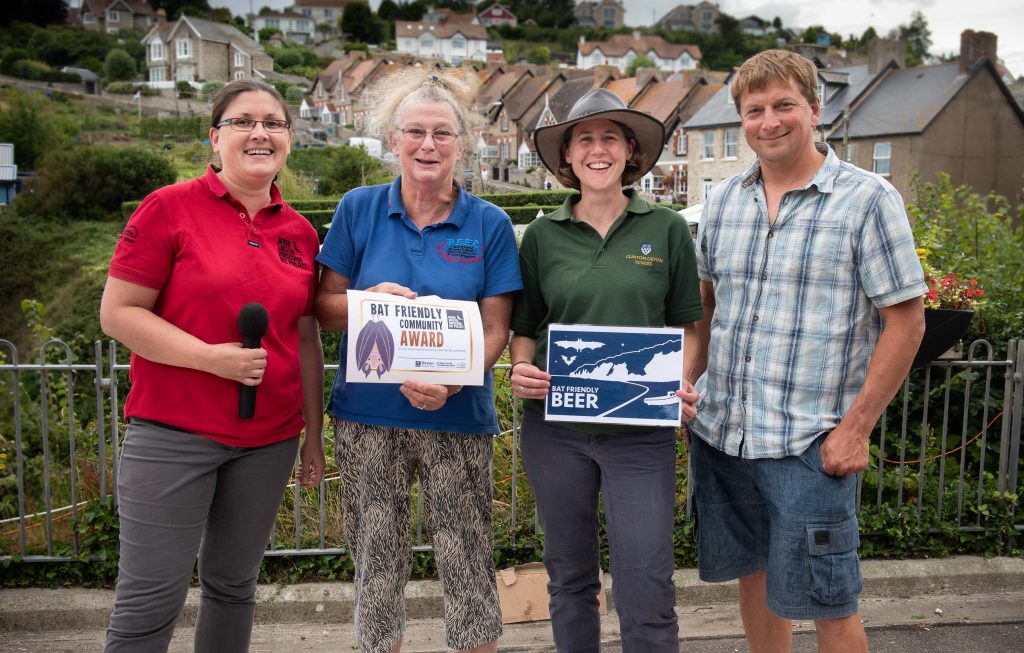 Ruth Testa, Manager of the Devon Greater Horseshoe Bat Project said: "I am delighted to present this award to honour the efforts of Bat Friendly Beer in making the town a better place for greater horseshoe bats."
Kate Ponting, Countryside Learning Officer for Clinton Devon Estates, who has championed this community project focussed on greater horseshoe bats and was instrumental in getting Bat Friendly Beer underway said: "This award is very pleasing, and will encourage Bat Friendly Beer to continue and expand its efforts in this special village.
"Beer Quarry Caves is an internationally important bat hibernation roost and the landscape around it is also important, so encouraging all the community to recognise this and work together to protect and promote them is key."
Visit www.devonbatproject.org to find out more about the project, including how to take part in the Devon Bat Survey. In September the project runs the Bat Festival month and events locally include a chance to visit Beer Quarry Caves on the 10th September.
The Devon Greater Horseshoe Bat Project is a five-year partnership project led by Devon Wildlife Trust and made possible by the National Lottery Heritage Fund. The project is working towards sustaining Devon's population of these threatened nocturnal animals by working with local landowners, farmers and communities across Devon.
Greater horseshoe bats have seen their numbers plummet by over 90% in the last 100 years. Today Devon remains a stronghold of this endangered species with about a third of the UK population found in the county.