How Devon is leading the way in conserving and improving the natural world
By John Varley, CEO, Clinton Devon Estates               
Imagine for a moment the news agenda without Covid-19… If press and broadcast media weren't reporting on the global health emergency, would the headlines and column inches be filled with news of the global climate emergency? An Armageddon that poses a much greater threat to lives, livelihoods and the economy would surely warrant at least a similar level of coverage, wouldn't it?
I'm not an environmental activist. I work for Clinton Devon Estates, a family business responsible for the stewardship of 25,000 acres of Devon. I'm also a father of three children and I drive an electric car.
Whilst we can all understand the benefits of giving-up fuel-guzzling motors to reduce carbon emissions and stall global warming, there's much more to "building back greener" after the coronavirus pandemic to safeguard the welfare of future generations.
According to the IPPC (Intergovernmental Panel on Climate Change), there was a 7% reduction in CO2 emissions in 2020 but if we revert to our old ways post-Covid, that figure will be a mere blip on the current trajectory of global warming, resulting in more wildfires,  extreme weather events, melting of the polar ice caps and rising sea levels.  So we need to do more – and faster – which is why, as well as reducing personal and industrial carbon emissions, we need to adapt further and make changes to our local landscapes and look to nature for the answers.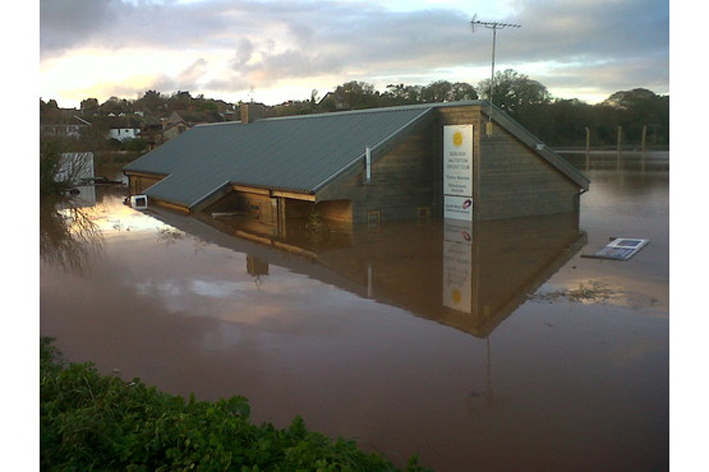 In East Devon, where I live and work, the quintessentially English seaside town of Budleigh Salterton has experienced extreme weather events becoming more frequent in recent years. The local cricket club, idyllic in summer thanks to its riverside location and sea views, is routinely submerged in winter when committee members mobilise at short notice to move equipment, chairs and tables to safety from the pavilion to an upper floor.  
These adverse weather conditions and rising sea levels have also led to breaches of embankments on the Lower River Otter, built over 200 years ago to create farmland in response to a nationwide need for food during the war with France.  Ever since 1812, however, this river – which is now well-known as England's first wild beaver colony for 400 years – has been trying to reconnect with its natural floodplain.
To address the threat of a catastrophic, unplanned breach of the embankments, Clinton Devon, alongside the Environment Agency and the East Devon Pebblebed Heaths Conservation Trust, have created a £15 million scheme to help the Otter valley adapt to climate change and, at the same time, create an internationally important wildlife reserve.
In a managed "realignment", the 1812 embankments will be breached to allow land to flood at high tide. The move will involve over 150 hectares of the catchment, including creating 55 hectares of new saltmarsh and mudflats, providing an important habitat for wading birds and other rare species. There will also be significant areas of reedbed and grazing marsh.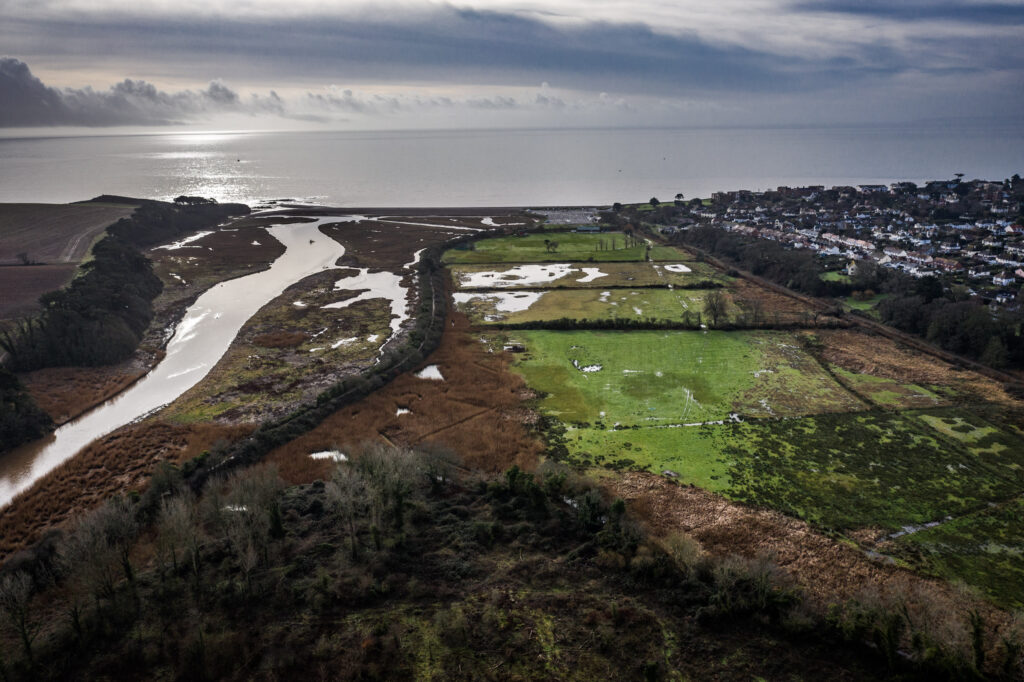 This is a largely EU-funded project which is partnered with another in the Saâne Valley in France and, if successful, the model will be transferable to similar catchments globally.
It's been nearly 20 years since restoration of the Lower Otter river was first explored as a concept with local farmers, communities and a wide range of public bodies.   Work will begin later this year, thanks to unanimous support from the forward-thinking members of East Devon District Council's planning committee in January 2021. They quoted their Climate Emergency Strategy which aims to mitigate the threats of climate change on their communities and makes a commitment to becoming a carbon neutral council by 2040.    
The restored environment on and around the Lower River Otter will be managed by the same conservation trust which looks after the nearby East Devon Pebblebed Heaths, 1,400 hectares of important lowland heaths also owned by Clinton Devon Estates, which were last year designated a National Nature Reserve (NNR), providing vital space for nature for over 3,000 species, 10% of which are nationally or internationally rare, not to mention important open space for walking, cycling, horse riding and birdwatching.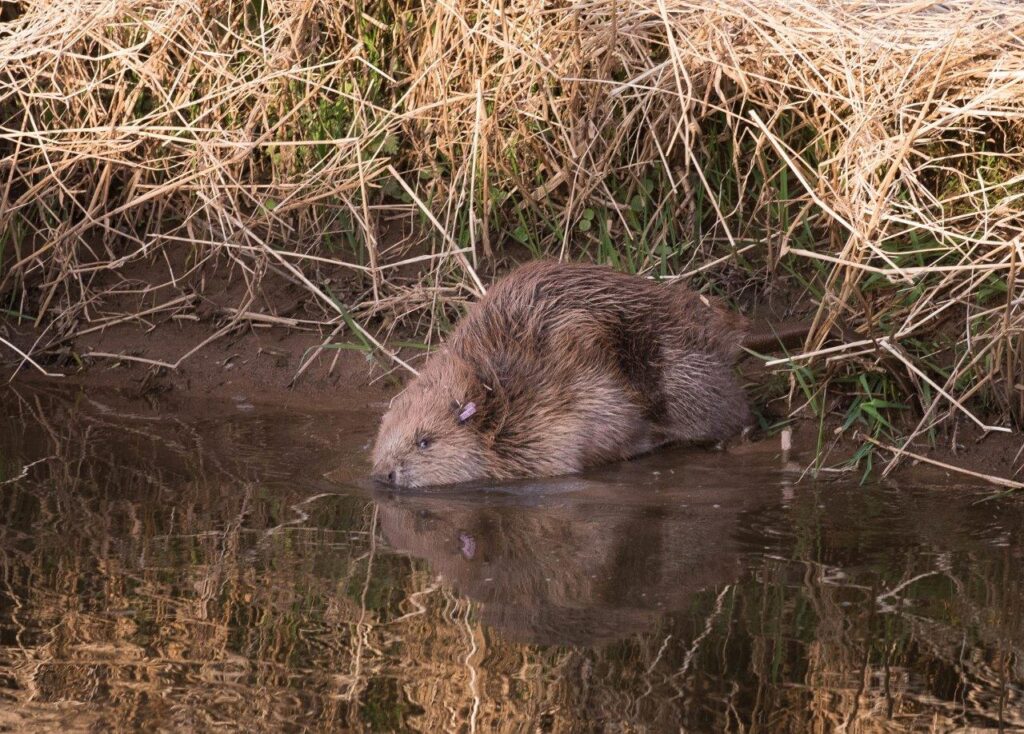 Meanwhile, further up the River Otter, the wild beaver families are busy building dams in multiple tributaries, providing natural flood management upstream. Their activity is being monitored by the partners of the River Otter Beaver Trial; the Devon Wildlife Trust, Clinton Devon Estates, the University of Exeter and the Derek Gow Consultancy.
Also within the same catchment is a Defra Test and Trial site for a new Environmental Land Management (ELM) scheme demonstrating how farmers can work together to achieve a net gain in environmental outcomes and nature recovery across this wonderful catchment, whilst continuing to produce food and run viable businesses.   As a result farmers in the catchment will be well placed to be able to access support as set out in the new ground breaking post EU Agriculture Act 2020, which aims to pay public money for "public goods", such as improved water quality, access to the countryside, animal welfare and flood management.  
Here in Devon, in the Lower Otter Catchment, tackling the two biggest threats to our natural environment – climate change and the decline of biodiversity – is not just a vision.  It's actually happening right now, aligning seamlessly with the desired outcomes in the Environment Bill, which is due to receive Royal Assent later this year. 
As Britain prepares to host the UN Climate Conference, COP 26 in Glasgow in November, we can use our catchment example to demonstrate how this country should be a catalyst and a pace-setter in conserving and improving the natural world – adapting to Climate Change.   We can feel optimistic about the future despite the challenges the world faces.  If landscape-scale, locally led, climate change adaptation can be delivered in Devon, it can surely be done elsewhere.
Clinton Devon Estates has been around for 700 years and, as we plan for the next 700, we continue to adapt and focus on the needs of society, the planet and the economy in equal measure, doing today what's right for tomorrow. 
Learn more:
www.lowerotterrestorationproject.co.uk
www.clintondevon.com
www.pebblebedheaths.org.uk